Sew a Unit #8 together to a Unit #9 like the picture below. We'll call this one Unit #11 and you'll need to make two of them.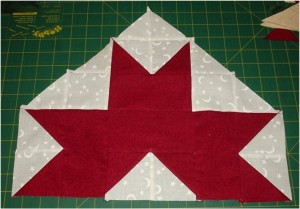 ---
Now sew the two 3″ x 15 1/2″ strips of background fabric to opposite sides of Unit #10 like below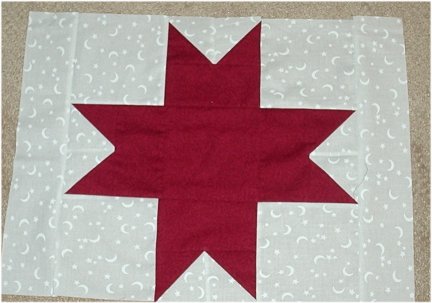 Finally, you guessed it, sew the Unit #11s to either side of the center panel from above and voila, you'll have this:

I need to apologize because the oddest thing has happened. I intended to put borders on this table runner and share that with you, however, I've somehow managed to misplace the fabric I'm using to do this project. I know, it's bizarre but it's true. I'm sure I put it somewhere "it would be safe" because it appears to have vanished off the face of the earth. So, um, no borders. Sorry.